Northwest Energy Security Act – salmon & our region deserve better
Published 3/27/2023 | Idaho Rivers United
Following statements from President Biden during the Conservation Action Summit,  U.S. Senators Jim Risch (R-Idaho) and Steve Daines (R-Mont.) with U.S. Reps. Dan Newhouse (R-Wash.) and Cathy McMorris Rodgers (R-Wash.) introduced the Northwest Energy Security Act to protect the four lower Snake River dams.
The introduced legislation pushes back against decades of science and reporting that clearly indicates that breaching the four Lower Snake River dams is the only recovery tool available that will give endangered salmon runs a viable path toward healthy and harvestable abundance.
"This proposed legislation flies in the face of what science tells us and dismisses the longstanding suffering and uncertainty in Tribal Nations and river communities due to years of unacceptably low salmon returns. The services that the Lower Snake River dams provide are undoubtedly replaceable. Salmon and all that they mean for our region, both economically and culturally, are not," said Stephen Pfeiffer, Conservation Associate at IRU.
While introduced by Republican lawmakers, this issue is not purely political from one side of the aisle. Representative Mike Simpson (R-ID) has long been an advocate for the breaching of the dams, breaking with his Republican colleagues when he released his Columbia Basin Initiative plan to address salmon recovery, replace the dams' services, and invest in the region.
Representative Simpson provided this statement in a Lewiston Tribune article in response to the legislation from his colleagues, "If the choice is between flushing Idaho's upper Snake River water downstream for four dams in Washington state, I choose keeping Idaho water for Idahoans," he said. "Each year eastern Idaho sends almost a half million acre feet of irrigation water downstream for salmon recovery — that is water that is not being used to recharge our aquifer, not being used for irrigation, and our salmon are on the verge of extinction."
As we look at the Lower Snake River dams and the services they provide, there are viable alternatives. Investments in clean energy, rail-line infrastructure, and irrigation all offer much-needed solutions that are attainable and affordable. This proposed legislation offers none and is an attempt to dig in our heels and stay the course that has been illegal, costly, and devastating and is leading our iconic salmon and steelhead runs toward extinction.
For additional information, see this press release from the Save Our Wild Salmon Coalition.
Upcoming opportunities for salmon advocacy
The Biden Administration is holding a listening session on Friday, March 31st to hear from interested parties around the Lower Snake River dams and endangered salmon populations. Register here to tune in. While slots to speak have filled up, keep an eye out for similar opportunities in the coming weeks – messaging urging action on salmon recovery and replacing the dams' services will be critical!

Additionally, please consider signing this petition to the Washington legislature. It urges action this session to approve funding that would allow the necessary analysis, planning, and engagement related to replacing the dams' services to begin. Snake River salmon are relied upon regionally – let the Washington legislature know their action is needed to recover wild salmon here in Idaho.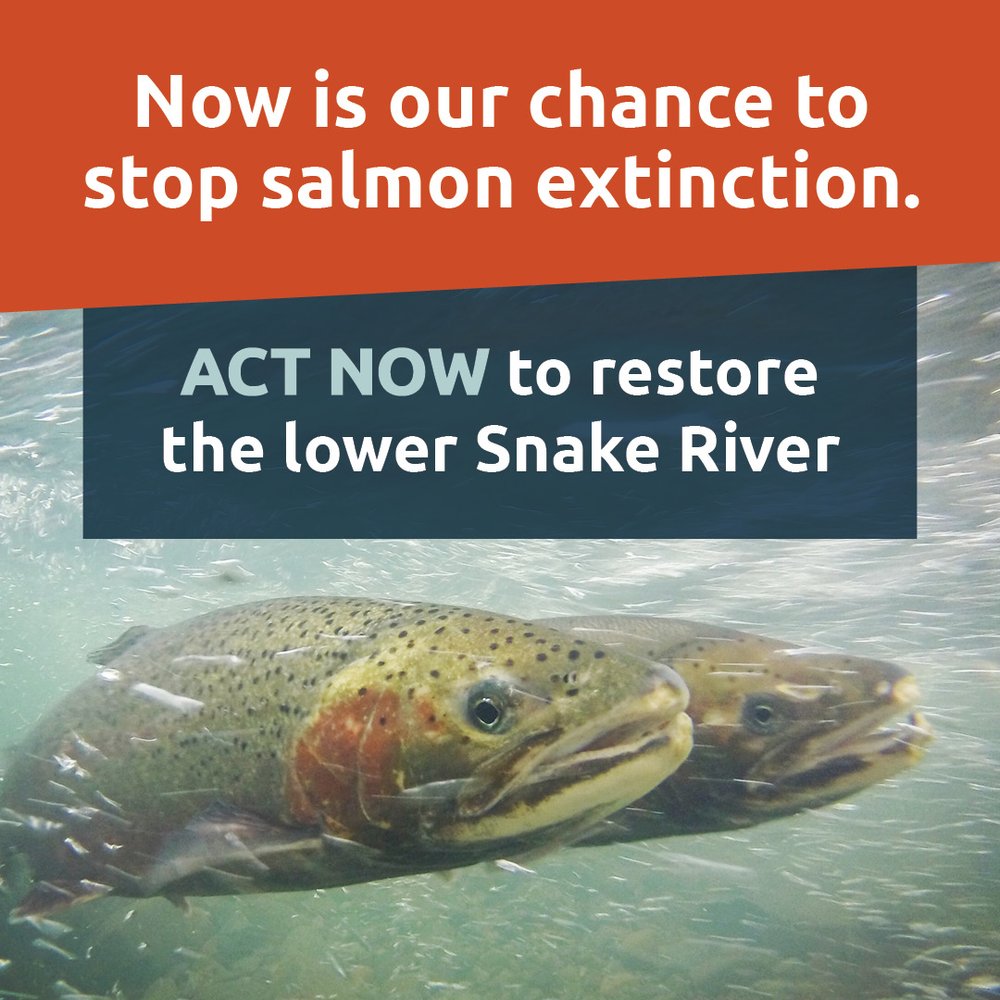 This post originally appeared on News – Idaho Rivers United.