Environmental policy updates: NEPA, BLM, & public lands
Published 8/31/2023 | Idaho Rivers United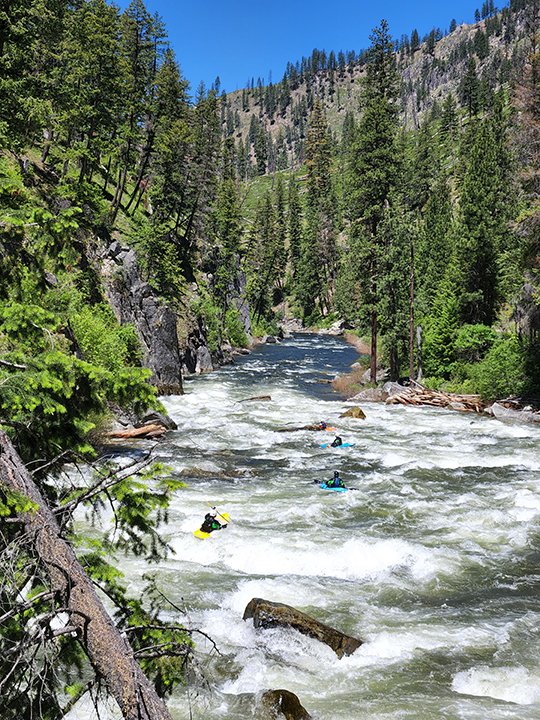 In the world of environmental policy, this summer has been busy with three new proposed rules from the Federal Government, which include changes to the National Environmental Policy Act (NEPA), a Public Lands Rule, and revisions to the Bureau of Land Management's (BLM) oil and gas leasing regulations.
The Council of Environmental Quality announced revisions to NEPA that would implement new permitting efficiencies that would be led by Congress under the Fiscal Responsibility Act of 2023. The CEQ proposes the Bipartisan Permitting Reform Implementation Rule in order to expedite the environmental review process under NEPA. At IRU, we always advocate for the public to have the opportunity to provide input on projects, especially those that have significant environmental effects. Accelerating the environmental review process is a cause for concern when many of the projects being proposed are highly complex and permitting projects too quickly could cause an overlook of crucial environmental safeguards.
Other proposed changes to NEPA include eliminating some of the amendments made to the act in 2020. Mainly, these changes would revert the changes made in 2020 to the language of the 1978 amendments.
To submit comments on these NEPA revisions, follow the link here and submit comments by September 29, 2023.
The BLM has put forward a couple of proposed rules centered around conserving public lands and waterways. First, the Public Lands Rule was announced in late March of 2023 and seeks to strengthen healthy landscapes, abundant wildlife habitat, and clean water protections. The purpose of the proposed rule is to uphold the multiple-use and sustained yield mission by putting conservation on "equal footing" with other land uses under the Federal Land Policy and Management Act of 1976 (FLPMA).
The draft rule proposal recognizes that public lands are increasingly degraded and fragmented from the harmful impacts of climate change and the increase in authorized use. One of the main objectives of the Public Lands Rule is to further advance ecosystem resilience by making sure ecosystems can maintain fundamental structure and function when faced with environmental stressors such as drought, wildfire, nonnative invasive species, insects, and other disturbances.
IRU believes it is necessary for the BLM to identify known environmental stressors such as climate change, invasive species, wildfires, and known stressors from permitted activities such as logging, grazing, recreation, road building, mining, and drilling. As climate change continues to be a growing threat to the state and health of public lands, the category of conservation for land use needs to include language on climate resilience, specifically addressing how the rule will target mitigation of greenhouse gas emissions.
With this proposed rule, it is also important for the BLM to recognize opportunities for Tribal cultural site protection. Co-stewardship should continue to be explored by consulting with Tribes to develop the regulatory language further and ensure it fully advances opportunities for co-stewardship, incorporation of traditional Indigenous knowledge, respect for Tribal sovereignty and treaty rights, and the protection of Tribal cultural sites.
Shortly after the first proposal, the BLM released another proposed rule in July 2023 to revise the agency's oil and gas leasing regulations. The BLM aims to create a more "balanced approach to development, provide a fair return to taxpayers, and ensure that drilling does not conflict with protection of important wildlife habitat or cultural sites."
The revisions include updating the fiscal terms of the onshore federal oil and gas leasing program to increase public returns, account for environmental degradation, and discourage speculation by oil and gas companies.
According to the BLM, Federal onshore oil and gas royalty rates have been consistently lower than on state-issued and federal offshore leases, and haven't been raised in over 100 years. Also, bonding levels have not seen an increase in 60 years, and minimum bids and rents have stayed constant for over 30 years.  Ultimately, the BLM wants to create a more responsible leasing program and protect public lands and waterways by changing outdated oil and gas leasing fiscal policies.
To comment on this proposed rule, follow the link here and submit comments by September 22, 2023.
This post originally appeared on News – Idaho Rivers United.